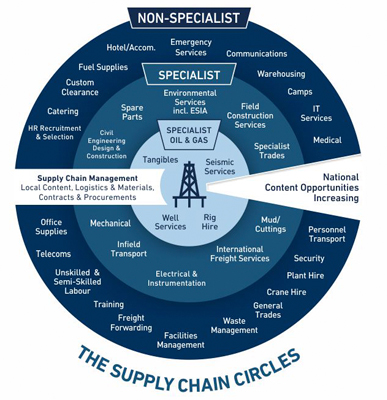 Broad areas of opportunities in the Upstream sector that investors can leverage on to partner and work with UNOC:
Licences and acreage
UNOC has a key role in ensuring the sustainability of petroleum resource production and reserve replacement in the country.
In this regard, UNOC working to acquire exploration licences with the view of increasing the resource base of the country. Therefore, the areas of investment opportunities under these initiatives include:
1)     Long-term strategic partnerships and joint ventures in exploration licences.
2)     Mergers and Acquisition (M&A) opportunities during future reconsideration of the Company's investment strategy in exploration licences.
3)     Financing for work programme and projects.
Oilfield Services
The anticipated exploration drilling in new exploration licences, development drilling in the Tilenga and Kinfisher Projects and other future licences will attract diverse investment opportunities.
Investment opportunities may include long-term strategic partnerships in provision of technologically driven drilling and oilfield services such as:
1)     Drilling Rig Services – Land drilling rigs, Shallow water drilling rigs, Rig positioning services, Rig-less Work over Services, Directional drilling & surveys and Drilling.
2)     Drilling Equipment Services – Supply of drilling materials and equipment such as drill bits, drill pipes, drill collars and cone bits.
3)     Well Control Services - Drilling Mud, Chemicals, Mud logging services, Well control and Blow-out prevention, Fluid filtration, Fish and Fishing tools.
4)     Casing and Tubing Services – Well casing, Tubing services, Tubing Conveyed Perforation (TCP) and related tools.
5)     Well Completion Services – Wellhead maintenance and Well completion services, Solid control, Sand control, liners, perforations, packers, gauges and pressure pumping.
6)     Downhole Measurement Services - Measurement While Drilling (MWD) and Logging While Drilling (LWD) services, Coil tubing, Wireline logging, Production logging, Petrophysical & Reservoir data services, Production testing, Cased-hole electrical logging;
7)     Well Sampling and Analysis - Surface & Bottom Hole sampling, Laboratory and Pilling services and PVT Analysis;
8)     Design, Engineering and Construction Services- Engineering Design, Construction of production facilities, Flowline construction, Oil terminal design and construction, Firefighting systems design and installation, Natural gas fired equipment design and construction, Corrosion engineering, Environmental engineering services, Pipeline laying and inspection.
For more information, please contact: upstream@unoc.co.ug